WHAT IS A SPECIAL TAXING DISTRICT - and why should a buyer be aware of this before purchasing a home?
Quasi-governmental entities formed to finance, develop and manage areas outside the existing infrastructure of a municipality. The district imposes a special tax on the new development in that area and issues municipal bonds which are backed by the anticipated tax revenue from that tax.
Homebuyers, especially in newly developed areas should pay special attention to the taxes, as they may pay for inclusion in a special district.
Property taxes in one area of a county may have substantially different tax rates than another area in the same county depending on whether the property falls within the boundary of a certain special district. In fact, special district taxation represents upwards of 19% of the total property taxes across Colorado.
HOW DOES THE SPECIAL DISTRICT MILL LEVY IMPACT MY TAX BILL?
Property taxes are computed by multiplying the "assessed value" of your property by your local mill levy (the tax rate). Keep in mind, the assessed value is NOT the price you paid
for your home. It's 7.15% of the market value, so much less. Many assessor websites have information about the assessed value and the mill levy for your property.
However, the most reliable source of information is an official Tax Certificate, which is provided to you with your title insurance commitment.
KNOWING THE RATE...attributable to a special district is only part of the analysis
One must also consider the value of the infrastructure, amenities, etc. that the special district provides for the property. A particular special district may appear expensive, but it might also cover a lot of community expenses that might otherwise not be available, or paid by other means, like a homeowners association.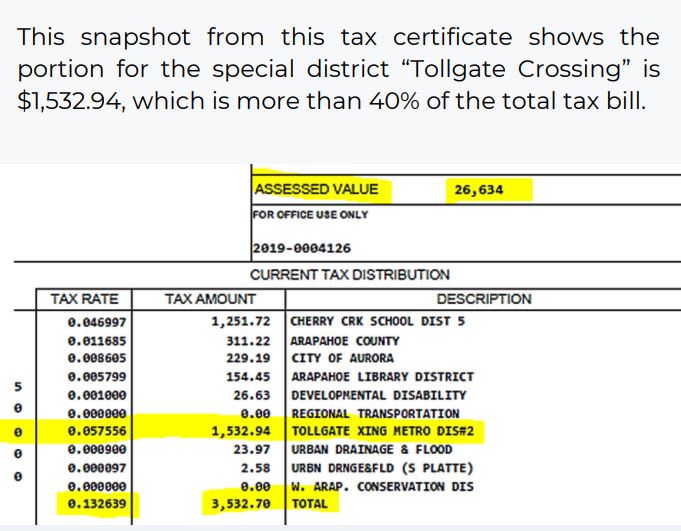 *Insight courtesy of First Alliance Title Company